Towards COast to COast NETworks of marine protected areas (from the shore to the high and deep sea)
coupled with sea-based wind energy potential
The CoCoNet WebGIS publishes all the data stored and integrated in the CoCoNet Geodatabases already available at scale of Mediterranean and Black Seas or produced by the CoCoNet partners within all WPs.
This new interactive system allows the partners to visualize the Geodatabase architectures, to query and download data, to print a map with a legend. The downloading function is regulated by a DATA POLICY that user must accept and sign before data access. Credential for data downloading are provided to partners after data policy acceptance.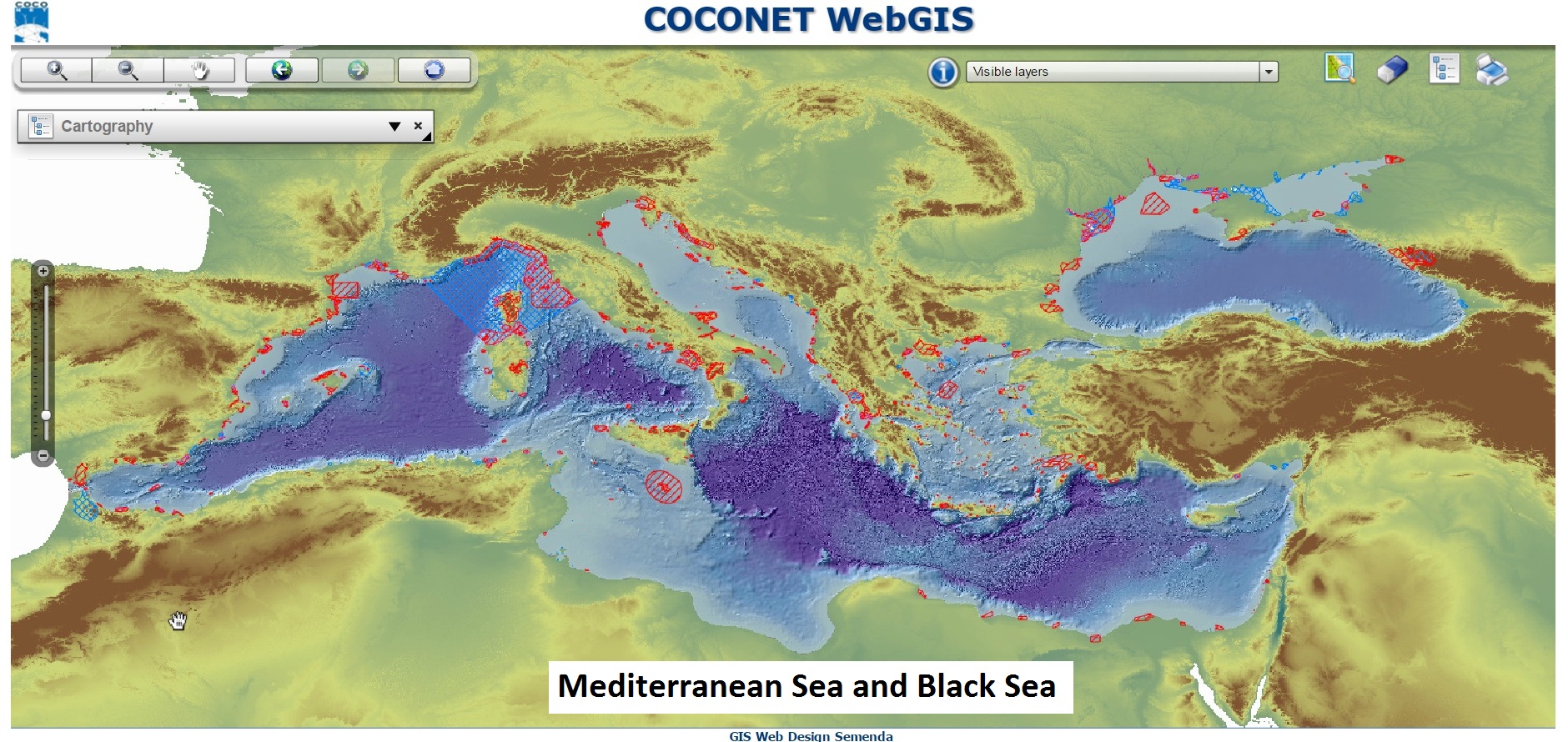 Following the Geodatabases created in the framework of the CoCoNet project:
- Protected Sites: protected sites at sea and 15 km inland from the coast. Areas designated or managed within a framework of national, international, Community and Member States' legislation to achieve specific conservation objectives. Each site has its zones of protection and its characteristics are described in related table, such as present species, present habitats and regulation. In addiction links to the webpage or to the establish document of the protected site.
- Offshore Wind Farms: Existing and planning site for Offshore Wind farms turbines and potential locations based on physical parameters (depth, distance from shore, etc) or environmental data (habitat presence, marine protected sites, etc). The geodatabase stores all the information about wind energy and wind speed at 10 and 80 meters. The results about the spatial analysis will be stored here, such as the chart of more suitable areas to install OWF.

- Habitats and Biotopes: Geographical areas, lines or points characterized by specific ecological conditions, processes, structure, and functions that physically support the organisms that live there. The gdb includes the habitats extension and characterization, the sampling elements and the habitat suitability models. The geographical information is completed by no-spatial data about species, sources and cover types.

- Biodiversity: The gdb collects information about species occurrences, species distribution, mammals, birds and turtles at sea and about nesting sites at land. The elements are linked to their sampling features (transects, stations and survey areas). Information about taxonomy and sources are stored in related tables.

- Geology: The gdb stored geological samples (grabs, boreholes), geological units (lithostratigraphic units, seabed substrate, system tracks, base of Quaternary, etc), geological structures (folds, faults), geomorphologic features (natural and anthropogenic) and geophysical elements.

- Oceanography: physical variables (temperature, salinity, currents), biogeochemical variables (chlorophyll, phytoplankton, dissolved oxygen, etc) and ecoregions, the last one produced in the framework of the CoCoNet project according to physical parameters.

- Socioeconomics: Units of administration at land, dividing areas where States have and/or exercise jurisdictional rights, for local, regional and national governance, separated by administrative boundaries. The land uses, the land cover, information about socioeconomic parameters and stakeholder's positions.

- Threats: Natural and anthropogenic activities and impacts: invasive species, outfalls, marine litter, fishing, navigation routes, and so on. The gdb changes in the case of the pilot project areas, where more specific layers have been created.

- Maritime Units: Units of administration at sea, dividing areas where States have and/or exercise jurisdictional rights, for local, regional and national governance, separated by administrative boundaries. Here: Exclusive Economic Zones (EEZ), contigous zones, territorial zones and maritime boundaries.

- Sea Regions: Physical conditions of seas divided into regions and sub-regions with common characteristics. A Sea Region (SR) is a 2D geometry of an area or line with common (physical or chemical) characteristics that is covered by sea. Here: seas, biogeographycal regions (areas of relatively homogeneous ecological conditions with common characteristics) and coastline.

- Elevation: Digital Elevation models for land and sea surface. Includes bathymetry, marine contours, bathymetric surfaces. The DEM of elevation (SRTM 90m Digital Elevation Data ) and the bathymetry (EMODNET) are used as base maps in the webgis platform.

- Connectivity: The gdb manages data about connectivity, in details: oceanography (currents, trajectories), genetics (species analysis), propagules (source, sink and retainer sites) and beta-diversity (assemblages similarity and distance decay).

- Habitat Mapping: Habitat mapping of the pilot areas according to the CoCoNet classification scheme (Geomorfological layer, Substrate layer, Biological layer). A polygonal map of habitats is produced from indirect methods (e.g. bultibeam echosounder) and a linear map from direct methods (ROV dives and CARLIT methodology). Each dataset is linked to the own sampling features (e.g. ROV navigations, stations, transects) described in related tables.
The WebGIS system publishes the data stored in the GDBs designed following the INSPIRE Data Models and implemented using ArcGIS Server 10 software and the Content management System (CMS) called MOKA provided by Regione Emilia Romagna in cooperation with SEMENDA srl.
Contacts:
Valentina Grande - valentina.grande@bo.ismar.cnr.it
Federica Foglini - federica.foglini@bo.ismar.cnr.it
Document Actions